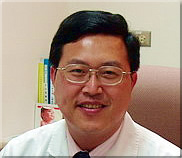 主要學歷由最高學歷依次填寫,若仍在學者,請在學位欄填「肄業」
| | | | |
| --- | --- | --- | --- |
| 學校名稱 | 國別 | 主修學門系所 | 學位 |
| 德州大學 | 美國 | 分子醫學 | 哲學博士 |
| 高雄醫學院 | 中華民國 | 醫學系 | 醫學士 |
現職及與專長相關之經歷 指與研究相關之專任職務,請依任職之時間先後順序由最近者往前追溯
服務機構

服務部門/系所

職稱

起訖年月

(

西元年

/

月

)

現職:高雄醫學大學附設醫院

臨床醫學部

部長

自

2013

/

08

迄

今

高雄醫學大學附設醫院

轉譯醫學研究中心

主任

自

2013

/

02

迄

今

高雄醫學大學

婦產部

(

學科

)

教授

自

2013

/

02

迄

今

經歷

:

義守大學

生物科技學系

教授

自

2008

/

02

至

2013

/

01

義守大學

醫務管理學系

教授

自

2007

/

02

至

2008

/

01

義守大學

醫務管理學系

副教授

自

2004

/

04

至

2007

/

01

義守醫院

醫研部

部長

自

2005

/

02

至

2008

/

05
專長
婦產科學及婦科癌症

分子生物學及癌腫瘤學

癌症機轉及抗癌藥物開發
著作目錄
2015
RTOG, CTCAE and WHO criteria for acute radiation dermatitis correlate with cutaneous blood flow measurements. Huang CJ, Hou MF, Luo KH, Wei SY, Huang MY, Su SJ, Kuo HY, Yuan SS, Chen GS, Chu-Sung Hu S, Chuang HY. Breast. 2015 Mar 13. pii: S0960-9776(15)00009-0.
Activation of the ubiquitin proteasome pathway by silk fibroin modified chitosan nanoparticles in hepatic cancer cells. Yang MH, Chung TW, Lu YS, Chen YL, Tsai WC, Jong SB, Yuan SS, Liao PC, Lin PC, Tyan YC. Int J Mol Sci. 2015 Jan 12;16(1):1657-76.
2014
Bioactive 6S-styryllactone constituents of Polyalthia parviflora. Liou JR, Wu TY, Thang TD, Hwang TL, Wu CC, Cheng YB, Chiang MY, Lan YH, El-Shazly M, Wu SL, Beerhues L, Yuan SS, Hou MF, Chen SL, Chang FR, Wu YC. J Nat Prod. 2014 Dec 26;77(12):2626-32.
High Id1 expression, a generally negative prognostic factor, paradoxically predicts a favorable prognosis for adjuvant paclitaxel plus cisplatin therapy in surgically treated lung cancer patients. Cheng YJ, Lee YC, Chiu WC, Tsai JW, Su YH, Hung AC, Chang PC, Huang CJ, Chai CY, Yuan SS. Oncotarget. 2014 Nov 30;5(22):11564-75.
Brefeldin A reduces anchorage-independent survival, cancer stem cell potential and migration of MDA-MB-231 human breast cancer cells. Tseng CN, Hong YR, Chang HW, Yu TJ, Hung TW, Hou MF, Yuan SS, Cho CL, Liu CT, Chiu CC, Huang CJ. Molecules. 2014 Oct 29;19(11):17464-77.
Involvement of the nuclear high mobility group B1 peptides released from injured hepatocytes in murine hepatic fibrogenesis. Kao YH, Lin YC, Tsai MS, Sun CK, Yuan SS, Chang CY, Jawan B, Lee PH. Biochim Biophys Acta. 2014 Sep;1842(9):1720-32.
Induction of apurinic endonuclease 1 overexpression by endoplasmic reticulum stress in hepatoma cells. Cheng TL, Chen PS, Li RH, Yuan SS, Su IJ, Hung JH. Int J Mol Sci. 2014 Jul 14;15(7):12442-57.
Sensitivity evaluation of NBD-SCN towards cysteine/homocysteine and its bioimaging applications. Chen YH, Tsai JC, Cheng TH, Yuan SS, Wang YM. Biosens Bioelectron. 2014 Jun 15;56:117-23.
Dual functional AuNRs@MnMEIOs nanoclusters for magnetic resonance imaging and photothermal therapy. Chuang YC, Lin CJ, Lo SF, Wang JL, Tzou SC, Yuan SS, Wang YM. Biomaterials. 2014 May;35(16):4678-87.
KRAS mutations: analytical considerations. Herreros-Villanueva M, Chen CC, Yuan SS, Liu TC, Er TK. Clin Chim Acta. 2014 Apr 20;431:211-20.
5-azacytidine induces anoikis, inhibits mammosphere formation and reduces metalloproteinase 9 activity in MCF-7 human breast cancer cells. Chang HW, Wang HC, Chen CY, Hung TW, Hou MF, Yuan SS, Huang CJ, Tseng CN. Molecules. 2014 Mar 13;19(3):3149-59.
Complete activation of autophagic process attenuates liver injury and improves survival in septic mice. Lin CW, Lo S, Perng DS, Wu DB, Lee PH, Chang YF, Kuo PL, Yu ML, Yuan SS, Hsieh YC. Shock. 2014 Mar;41(3):241-9.
Peptide-based MRI contrast agent and near-infrared fluorescent probe for intratumoral legumain detection. Chen YJ, Wu SC, Chen CY, Tzou SC, Cheng TL, Huang YF, Yuan SS, Wang YM. Biomaterials. 2014 Jan;35(1):304-15.
Evaluation of the antioxidant activity and antiproliferative effect of the jaboticaba (Myrciaria cauliflora) seed extracts in oral carcinoma cells. Wang WH, Tyan YC, Chen ZS, Lin CG, Yang MH, Yuan SS, Tsai WC. Biomed Res Int. 2014;2014:185946.
Characterization of silk fibroin modified surface: a proteomic view of cellular response proteins induced by biomaterials. Yang MH, Yuan SS, Chung TW, Jong SB, Lu CY, Tsai WC, Chen WC, Lin PC, Chiang PW, Tyan YC. Biomed Res Int. 2014;2014:209469.
A proteomic view to characterize the effect of chitosan nanoparticle to hepatic cells: is chitosan nanoparticle an enhancer of PI3K/AKT1/mTOR pathway? Yang MH, Yuan SS, Huang YF, Lin PC, Lu CY, Chung TW, Tyan YC. Biomed Res Int. 2014;2014:789591.
Krüppel-like factor 5 mediates proinflammatory cytokine expression in lipopolysaccharide-induced acute lung injury through upregulation of nuclear factor-κB phosphorylation in vitro and in vivo. Chen HL, Chong IW, Lee YC, Tsai JR, Yuan SS, Wang HM, Liu WL, Liu PL. Mediators Inflamm. 2014;2014:281984.
T-cell autophagy deficiency increases mortality and suppresses immune responses after sepsis. Lin CW, Lo S, Hsu C, Hsieh CH, Chang YF, Hou BS, Kao YH, Lin CC, Yu ML, Yuan SS, Hsieh YC. PLoS One. 2014 Jul 16;9(7):e102066.
The antiproliferative and apoptotic effects of sirtinol, a sirtuin inhibitor on human lung cancer cells by modulating Akt/β-catenin-Foxo3a axis. Fong Y, Lin YC, Wu CY, Wang HM, Lin LL, Chou HL, Teng YN, Yuan SS, Chiu CC. Scientific World Journal. 2014;2014:937051.
2013
The synthetic flavonoid WYC02-9 inhibits cervical cancer cell migration/invasion and angiogenesis via MAPK14 signaling. Chen YJ, Cheng YJ, Hung AC, Wu YC, Hou MF, Tyan YC, Yuan SS. Gynecol Oncol. 2013 Dec;131(3):734-43.
Total synthetic protoapigenone WYC02 inhibits cervical cancer cell proliferation and tumour growth through PIK3 signalling pathway. Chen YJ, Kay N, Yang JM, Lin CT, Chang HL, Wu YC, Fu CF, Chang Y, Lo S, Hou MF, Lee YC, Hsieh YC, Yuan SS. Basic Clin Pharmacol Toxicol. 2013 Jul;113(1):8-18.
The synthetic flavonoid WYC02-9 inhibits colorectal cancer cell growth through ROS-mediated activation of MAPK14 pathway. Chen YJ, Chen HP, Cheng YJ, Lin YH, Liu KW, Chen YJ, Hou MF, Wu YC, Lee YC, Yuan SS. Life Sci. 2013 Jun 13;92(22):1081-92.
Lc3 over-expression improves survival and attenuates lung injury through increasing autophagosomal clearance in septic mice. Lo S, Yuan SS, Hsu C, Cheng YJ, Chang YF, Hsueh HW, Lee PH, Hsieh YC. Ann Surg. 2013 Feb;257(2):352-63.
2012
Role of MRE11 in cell proliferation, tumor invasion, and DNA repair in breast cancer. Yuan SS, Hou MF, Hsieh YC, Huang CY, Lee YC, Chen YJ, Lo S. J Natl Cancer Inst. 2012 Oct 3;104(19):1485-502.
Progesterone receptor is involved in 2,3,7,8-tetrachlorodibenzo-p-dioxin-stimulated breast cancer cells proliferation. Chen YJ, Hung CM, Kay N, Chen CC, Kao YH, Yuan SS. Cancer Lett. 2012 Jun 28;319(2):223-31.
Resistin expression in breast cancer tissue as a marker of prognosis and hormone therapy stratification. Lee YC, Chen YJ, Wu CC, Lo S, Hou MF, Yuan SS. Gynecol Oncol. 2012 Jun;125(3):742-50.
Association of estrogen receptor α gene PvuII and XbaI polymorphisms with non-small cell lung cancer. Chang HL, Cheng YJ, Su CK, Chen MC, Chang FH, Lin FG, Liu LF, Yuan SS, Chou MC, Huang CF, Yang CC. Oncol Lett. 2012 Feb;3(2):462-468.
2011
High visfatin expression in breast cancer tissue is associated with poor survival. Lee YC, Yang YH, Su JH, Chang HL, Hou MF, Yuan SS. Cancer Epidemiol Biomarkers Prev. 2011 Sep;20(9):1892-901.
Id1 promotes lung cancer cell proliferation and tumor growth through Akt-related pathway. Cheng YJ, Tsai JW, Hsieh KC, Yang YC, Chen YJ, Huang MS, Yuan SS. Cancer Lett. 2011 Aug 28;307(2):191-9.
Complete induction of autophagy is essential for cardioprotection in sepsis. Hsieh CH, Pai PY, Hsueh HW, Yuan SS, Hsieh YC. Ann Surg. 2011 Jun;253(6):1190-200.
A novel synthetic protoapigenone analogue, WYC02-9, induces DNA damage and apoptosis in DU145 prostate cancer cells through generation of reactive oxygen species. Chen HM, Chang FR, Hsieh YC, Cheng YJ, Hsieh KC, Tsai LM, Lin AS, Wu YC, Yuan SS. Free Radic Biol Med. 2011 May 1;50(9):1151-62.